shorai
A Leading eCommerce Experience
eCommerce
design
development
support
A Netsuite solution that works.
Challenge
Shorai Power is the world's principal producer of prismatic cell, lithium iron phosphate power sports batteries. Their LFX batteries deliver more energy faster, with less weight and less wear on the battery per start cycle than any other brand or technology available on the market. 
After years of being limited by Netsuite's ecommerce solution, they wanted to take back control of their eCommerce, but still utilize Netsuite for the ERP system that supports their business. We were able to deliver just that.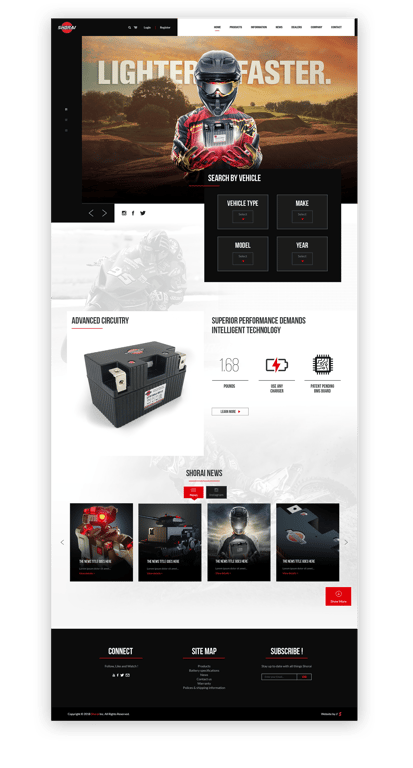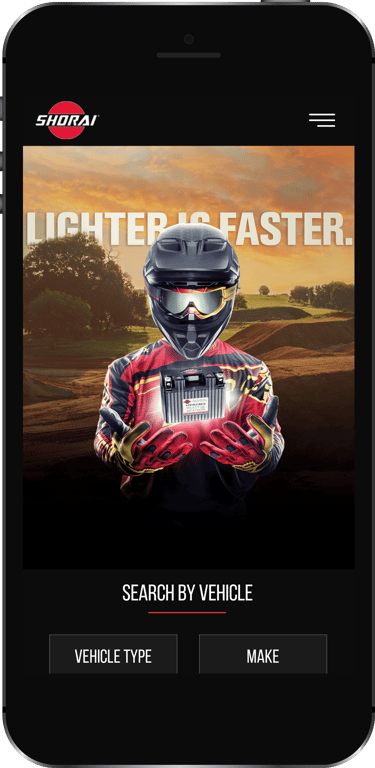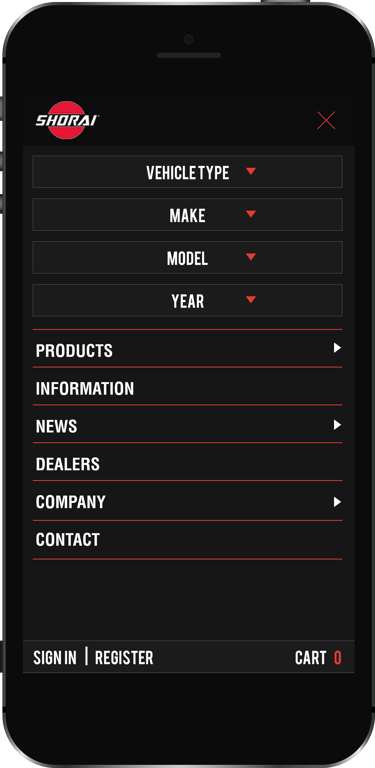 Adaptable Design
We needed to create a mobile first experience that appealed to the millennial demographic of Shorai. The mobile experience is designed for a thumb-first  interaction. The navigation is adaptable across mobile, tablet, and desktop ensuring we are providing an optimal experience for all devices.
B2B / B2C Commerce
 Shorai wanted to be able to offer a unique experience to both their B2B and B2C customers. Each customer had their unique requirements and we needed to be able to speak to the needs of each.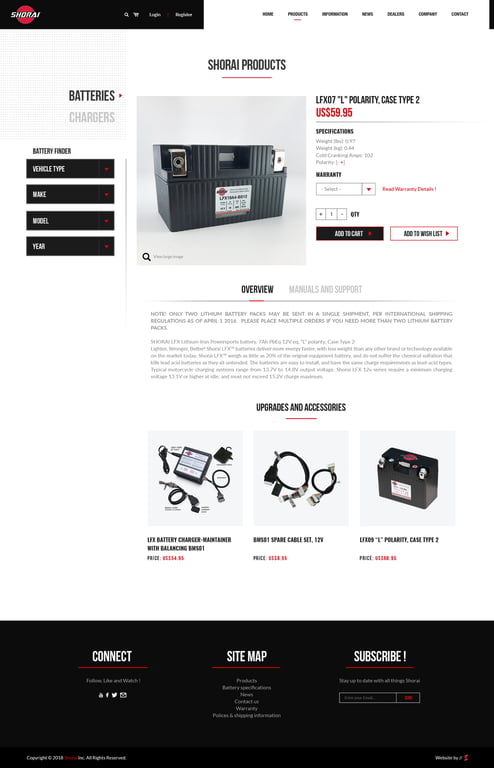 Technology Solution
In order to continue their growth trajectory Shorai needed an ecommerce solution that was more flexible, efficient and scalable than what they had with Netsuite. 
To execute on their vision we needed to create a separate ecommerce solution that seamlessly pulled and pushed data to Netsuite. This would allow us the freedom from the confines of Netsuite, but still rely on them for the back office needs of shorai.
01
problem
Netsuite was cumbersome, slow, and unreliable.
Utilize PURL for all the needed eCommerce functionality and sync to Netsuite for the back office utility it provided.
02
problem
Specific functionality for both the B2B and B2C customer.
PURL commerce was utilized to provide a rich experience for their B2B customers, while still being able to provide a seamless shopping experience for their direct to consumer channel.
03
problem
Ensure an efficient, stable experience for users across all devices.
A custom performance-tuned component and build system on the front end.
scroll for next case study
windom security
Leaders in Private Security
design
development
support
branding